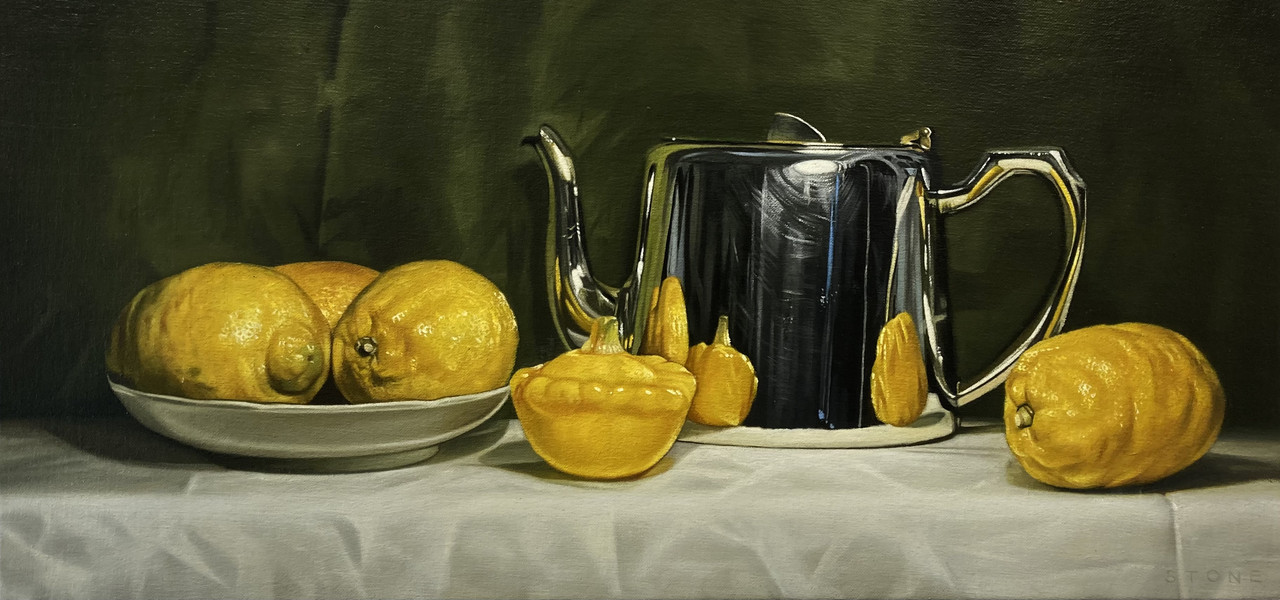 He specialises in traditional still life paintings inspired by the everyday objects that surround us, albeit with a fresh contemporary look. Painting in oils, in the style of classical realism, Paul employs an accomplished use of light and shade to create a sense texture and atmosphere to his work. He often uses fruit and vegetables juxtaposed with found objects. His skill breathes new life into the commonplace. The often-plain background only serves to heighten the focus on the objects, seeking the viewer to reappraise the everyday and the familiar.
Composition is a core consideration in the work, with Paul seeking a balance and harmony that recall his love for tradition Spanish and Ditch works from the 18th Century, and more recent personal favourites such as William Nicholson. After winning a national Still Life artist competition (and being shortlisted again in 2012), Paul's works have been shown and sold in galleries around the country. With a growing and receptive audience – and numerous other awards over the last few years – there is little doubt this artist is destined to receive more critical and commercial success.
Paul's collection of original oil paintings are on exhibtion at Gladwells Rutland, Oakham. His artworks make the perfect addition to any aspiring or well established art collector.
1/1
"At the core of my paintings is the search for a precision of focus on the formal properties of objects that have an everyday, almost unremarkable presence in our lives. This results in a familiar and nostalgic content, and for me a more intimate relationship with their representation.
While the work displays a high sense of realism, particularly in reproduction, it is important to me that the works are still essentially a personal interpretation of form and composition, and therefore not lose that sense of being a painting. The excitement of being an artist for me lies both in the process of physically using paint to transform, and a sense of achievement in completing the work".